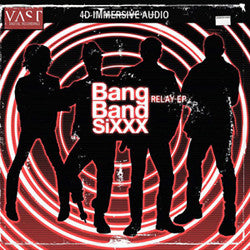 Bang Band SiXXX CD
$ 7.99
1. I Know How To Love
2. Lift Me Up
3. Loneliness Is Fine
4. Slow
5. It's Been so Long
6. Straight To The End


Bang Band SiXXX: Relay EP ('Sixxx' is stylized as 'SiXXX' in print) is an EP by the band VAST, under the alias of Crosby's science-fiction alter ego band Bang Band SiXXX. The songs are taken from the storyline of Crosby's novel Bang Band SiXXX, surrounding the lives of a rock band in the future. The songs all have lyrics relating to the story, and the music is futuristic and electronic. There is little of the world music theme found in normal VAST albums, as the music on this album is more electronic focused, a change from the acoustic music of VAST's recent. Many of the songs found on the album have become live staples at VAST shows.