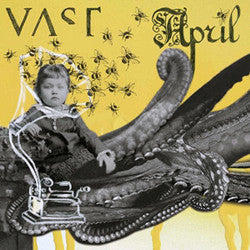 April CD
$ 7.50 $ 12.95
1. You're Too Young
2. Dedicate (A Place For Me)
3. Everything Passes By
4. Sunday I'll Be Gone
5. Frog
6. One More Day
7. Tattoo Of Your Name
8. Is It Me
9. I'm Too Good
10. She Visits Me
11. I Am A Vampire
12. Take Me With You

Recorded entirely in Austin Texas, Vast tracked much of the album playing together live. Many of the vocals and instruments were recorded in one take giving the record a much more human feel. However, the signature melancholy Vast melodies and themes are here, as well as the sonic and instrumental experimentation that has garnered the band it's underground fan base. April, more than any previous Vast album, is about the songs and shows what a dedicated band can accomplish by steering clear of trends.